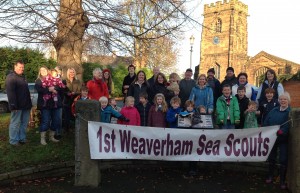 Bulb Planting Extravaganza – Saturday 17th November 2012
A huge thank you to everyone who joined us on Saturday for our bulb planting on the Pinfold Triangle.  It was great to see so many getting involved; we had beavers, cubs, scouts, sisters, brothers, dads, mums, grandparents and cousins, all willing to get their hands dirty and help us plant over 500 bulbs!
We hope that they will make a colourful display come the spring.  Our younger helpers were so enthusiastic we have probably got our daffodils and tulips mixed up, but so what?  It will still look wonderfully colourful  and the young people can walk past and take pride in saying – I helped to do that!
Some of the leaders were able to do some work on the garden at the Scout Hall too.  Parts of the garden were beginning to look a bit tired and overgrown.  But now, lots of the old plants have been taken out, the soil improved and new bulbs planted.  Again, it should look good next spring.
After all that hard work, everyone adjourned to the Hall for hot chocolate and homemade cakes thanks to the generosity of Irene and Lynne.  Thank you ladies, they were very well received.